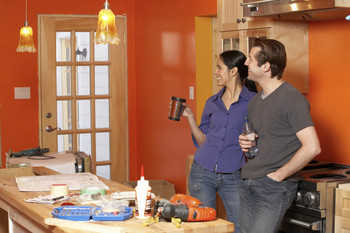 One of the latest dating trends to sweep the nation could soon put an end to your lonely nights. Speed dating is the newest and most efficient way to increase your odds of making a love connection in a short amount of time.
This modern-day dating experience, made popular by Whites, is steadily working its way into Black communities across the country. New York Media personality Sabrina Lamb and former theatrical agent DeBorah Gittens are the masterminds behind FlirtingTime.com, the first Black-owned speed dating company geared toward African-American singles who seriously want to connect.
"They don't cater to us," says Lamb of the predominately White dating events posted on the Internet. "We were an after-thought considered as a `special' or `ethnic' event.
"I took the [speed dating] idea and developed it so that it had the flavor of our cultural concerns."
At each FlirtingTime soiree, which is usually held at an elegant Black-owned establishment, participants engage in several one-on-one conversations lasting five minutes each.
The soirees are categorized by age and location. Currently the functions are being held weekly at various locations in New York and New Jersey. Upcoming February events are scheduled for Houston and Atlanta with future plans for development in Los Angeles, Washington, D.C., and Chicago.
To make the evening more interesting, the soirees are coordinated by themes such as "Single, Black Professionals," "Old School Lovers" and "Single, Black and Loving It!"
With speed dating couples are not expected to make a love connection within the five-minute time frame, but they should be able to get a feel of whether or not this is someone that they may or may not want to get to know better.
"Flirting means to take a lively, casual interest in someone, to smile and laugh with each other. I really want African-American singles to see these soirees as an opportunity for affection and love in their lives. You never know where the chances for companionship may-come from," says Lamb.
Each attendee, who has registered for a small fee on the Internet, receives a name badge and a flirt card upon arrival. The cards are used to express the level of interest the participants feel for one another in one of four categories: (1) Let's Flirt! (2) Activity Pals (3) Business Contact or (4) No Vibes.
"It's important to register on the site because that is how we make sure there is an equal ratio of men to women," Lamb explains. "You'll never come to a soiree where there are 95 women and only two men."
Once the evening is complete, each participant is notified via e-mail with the information from the flirt cards that tells which attendee wanted to get to know another better and on what level. Contact information is then exchanged with both party's permission in order to set up future arrangements.
Ricole Edwards, 35, a management consultant from Delaware, said that after a failed relationship she planned to experiment with online dating, but decided to give speed dating a try first.
"FlirtingTime was an opportunity for me to be open to meeting people who might otherwise be different from the type of man that I'm normally attracted to," says Edwards, who has attended two soirees and has gone on two dates.
New Jersey Quality Control Specialist Dirk Gordon, 33, says that a friend told him about speed dating, but he wasn't quite sure what to expect. "I just heard that I had the opportunity to date up to 40 women," he laughs. "You can't beat those odds."
As one of the many men rotating from one woman's table to the next, Gordon admits that he felt slightly uncomfortable at the FlirtingTime event.
"At first I felt a little pressure--some of the women were kind of aggressive with their questions. But I did meet some very nice and interesting people who I've hung out with a few times. I've recommended it to a lot of people and several of them want to go."
April Denson, a 42-year-old, New Jersey accountant and widowed mother of three, was lucky enough to make a connection with someone the first time she went to a FlirtingTime soiree.
"I think five minutes was plenty," Denson explains of the one-on-one conversations. "It's a certain smile or the way that you feel when you're talking to someone that makes you feel something for them. Just like anything else--when you see something that you like you kind of know."
According to clinical psychologist Dr. Jeffrey Gardere, author of Love Prescription: Ending the War Between Black Men and Women, any dating activities that singles experience, new or old, should simply be about having fun.
"Speed dating is not about `hooking up' with someone. It's about the excitement of meeting new people in a controlled, safe and friendly environment. Leave home the bad experiences from past excursions and come into this adventure with an open mind for trying something new. Doing these things will keep singles from having to meet unreasonable expectations and being negative. Maximize the experience?