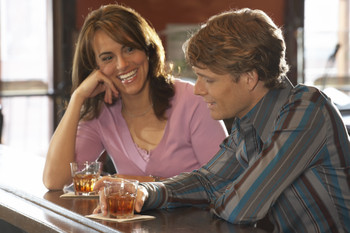 Byline: Rock Neelly
It isn't often that a single design feature, in this case, the hoodie, can revive a product category. But that's the story with fleece, a hot promotional product for Fall once again in 2004.
You've seen the story before.
Fleece's fall from grace was typical: the first act of a break-up to make-up tale made for a Broadway musical.
See, since the turn of the century, Fleece has been a lonely lady. Dumped by a once adoring public that through the '80s and '90s had taken her places - college football games, all kinds of cool events, even corporate outings. But the public became fickle. Fleece fell out of favor. She'd been shelved for newer, sleeker fabrics - microfibers, polynosics, and even "plain-Jane" polyester.
Promotional product dealers just stopped asking her out.
Yes, two years ago the fleece market was in a funk. The product category had been in a slump before 9-11 and the subsequent recession. The aftermath of those two events drove down sales and prices. In 2002, not much was happening for that cuddly, durable fabric we had all previously loved when the leaves started to fall and the air turned crisp.
In 2002, Fleece was sitting at home Saturday nights, shampooing her hair, waiting for the phone to ring.
Where was the love?
Along came the 'hoodie'
The "hoodie" was first seen on lightweight silhouettes on missies' fleece styles at retail a couple of years ago. The hood is functional, although it is mainly worn down for style. If you've been to the mall in the last year, you've seen a hoodie.
The hoodie's popularity was instant, and the design feature soon ran the gamut of the fleece market: retail, resort, college, and now promotional.
Sabrina Bradford, Senior Marketing Director for JERZEES, the Atlanta-based division of Russell Corp., acknowledges the trend. "Hoods continue to be in great demand, now for both men and women." JERZEES has expanded its offering in the hoodie, and now offers the feature in several fleece variations - blended 50/50 and stretch French terry, to name a couple.
Bradford notes, "Hoods are still really hot for women this fall. Manufacturers, including JERZEES, recognize women want styles tailored specifically for them, and we are offering more and more of those styles."
VF Corporation's Cindy Chatman echoes those thoughts. Chatman is business merchandise manager for VF, which markets industry mainstay brand, Lee.
"Hoods are absolutely still in for women this fall," says Chatman. She encourages all promotional product dealers to carry a "hoodie" in their bag for product demonstrations for the upcoming cooler weather.
Lee has also introduced a new line, N-Line Fleece, which incorporates the hooded trend, but also captures the energy of another niche in the activewear market.
"Lee's new N-Line Fleece has garnered much excitement from the promotional market since its introduction. The line was inspired by trends in the West Coast board sports market (skateboard, surfboard, and inline skating). Now that inspiration has spread to incorporate an East Coast influence too," Chatman explains.
Within the new selections, N-Line has a relaxed fit crew and a pullover hood. All styles are open bottom (not banded) with contrast twill taping and unique color palettes: Mineral, Pacific, Asphalt, Night and Desert Gold.
King Louie, a Kansas City-based manufacturer, caught the hoodie trend at the very beginning. Roger Carroll, vice president of marketing for the supplier, elaborates: "We've had a ladies' specific hoodie in the line for the last three years now, and it sells very well. We are now working on two new ladies' specific hoods for our 2005 line.
"King Louie's most popular new style is our Vancouver series, A620. This style is a next-generation hoodie. We reversed the fleece to make the garment nap side out and then added a one-quarter-zip closure in order to make it easier to pull over the head. It has a luxurious hand and a very upscale appearance."
Like Lee, SanMar always seems to have insight on the market trends. This progressive Washington state-based wholesaler/manufacturer has the reputation of keeping its Port Authority line on the cutting edge. Scott Boggs, the fleece buyer for SanMar, answered a few questions about what's hot and what's not.
"Our new 2004 hot styles are the hooded striped F255 Sport Tek and the Sueded Fleece (F290 and F292). For 2005, we have added to our Sport Tek fleece line to include ladies styles and a new solid hooded and a quarter-zip style," says Boggs.
"Hooded styles are still hot, and ladies' styles do very well. Coming this fall, we have added a ladies' full-zip hood, the L259."
Boggs added he thought the renewed popularity of fleece, although starting at retail, had reached the school and teamwear market and he recommends that PPDs definitely concentrate on fleece for this fall with those customers. Ladies' wear in fleece will be an area of focus for 2005 for new Port Authority styles.
JERZEES has perhaps the widest variety of fleece offering in the business with four different categories of fleece in blends and high-cotton counts. In blended fabrics, the Russell-owned brand offers both 8 and 9-ounce in 50/50 NuBlend air-jet yarn. NuBlend was designed to reduce the pilling that used to be inherent with high-poly fabrics. JERZEES also carries a 9-ounce blended premium fleece sub-branded as "Super Sweats."
This year, the company has added a sleek French terry designed for women. JERZEES' Bradford describes it in detail: "It is the French terry's fit that sets it apart. The silhouette is designed to look great on women of all ages, not just juniors. It's both trendy and flattering. It's made from 95% cotton and 5% Spandex; the stretch cotton is comfortable and keeps its shape."
JERZEES also has a premium sub-brand called Zclass. This traditional fleece is their best with a 10-ounce weight and a 90-percent cotton count.
Lee's Chatman sees a real upside to premium fleece right now. "Now that the economy is on the upswing, we are seeing more interest for premium quality/priced product. However, value is always key. N-Line is a great example of this trend."
Mills do color homework
Chatman also sees color is also a major factor in fleece this autumn. "Purple is a big deal... so is chocolate brown and gold."
King Louie's Carroll sees Mustard and Sage as the top selling fashion colors.
For SanMar, Boggs sees a return to traditional colorations. "Team colors have a made a comeback, including gold, orange, and maroon."
Bradford concurs that colors are very important this fall, but sees things in a different shade. "Fashion colors are also making a resurgence. Vibrant and athletic colors such as kelly green, light orange, and light blue are growing in popularity."
Okay... it appears the color palette in fleece is pretty wide.
Sometimes fashion color stories from the mills coincide. Last year's golf shirt color trend seemed to revolve fairly consistently around tangerine. It appears the trend is not as defined this season in fleece.
I remember once in my selling days, I participated as a panelist at a roundtable discussion at the famous Open House and Fashion Show at the now defunct Mid-America Wholesale.
A customer stood and asked the panel how manufacturers knew what was going to be the hot color for an upcoming season. I thought about our five-month delivery cycle and two-month catalog placement cycle, and I answered, "Hot colors are the ones we've already ordered."
Everyone laughed, but the humor worked because concept is sound. Manufacturers must develop their lines so far out in front of the selling season that they are forced to DECIDE the color story for a season before the season starts.
What does this long window of delivery mean to you, the PPD?
As a provider of promotional products, you should preview lines, see what is offered by the suppliers you prefer, and see what color story they are telling. If you are selling fashion colors, go with the mill's story. Those colors are where the stock will be. Better delivery will follow.
Beyond basic colors
Of course, our customers do have their own minds, as we know all too well. Basic colors - white, navy, black, and in fleece, ash - are nearly always plentiful. Getting those colors comes down to the style you want. For unique colors, you can also order special makes (dye lots), and thousands of customers do, but remember the window for delivery is measured in months and the order must be substantial, usually in the hundreds of dozens.